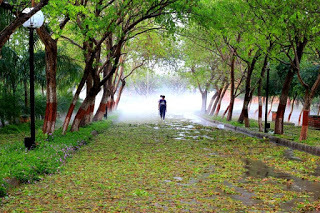 Jaane Ka Waqt Aa Raha Hai | Hindi Poem
Jaane Ka Waqt Aa Raha Hai | Hindi Poem
Vo Hawaaon ki bechainyan,
Ab badhne lagi hai.
Vo roz chalte the jinpe, vo rahein,
Ab angdaiyan lene lagi hai.

Shaakhon se gire patte,
Ab humse rukhe rukhe se rehte hai,
Vo roz milte the aasmanon mein udte parinde,
Ab humse dur jate rehte hai

Vo maidan pe bichi hari pattiyaan,
Ab thodi kathhor si lagne lagi hai,
Vo logon ki hasi, ab kuch aur hi lagne lagi hai

Yahan ki laal deewarein,
Ab hume kuch batati nahi hai,
Vo bhoor ki kirne,
Ab hume kuch samjati nahi hai,
Raat ka vo shoor,
Ab shant hone laga hai,
Tha jo kal tak apna,
Vo ab dheere dheere khone laga hai.

Na Jane kyun,
Par lagta hai yun,
Ki ab jaane ka waqt aa raha hai
*********************************
Connect to us @
SUBSCRIBE us on Youtube
For more poetry, @ Ramta Jogi Poetry