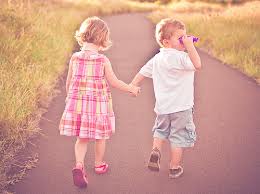 The innocence of Love | Short Story-1
The innocence of Love | Short Story-1
A boy and girl met in school and fell for each other. Love began along with began problems and finally, they met against all odds and all were happy endings.
4 friends, a school life, break-ups and patch-ups, smoking, drinking, creating a mess, solving it and again all ends with a happy note i.e. a long term girlfriend, a degree and also a job in an MNC. But not every story begins there and ends with a happy note. At least it wasn't mine for sure. Life was best for me even before I tasted life at school. It was not only best I can say it was great. I even term them as the best days of my life

"We are here to learn and live, we are here to love and forgive, And in this life, we have days when we laugh and cry, Sometimes we are full of energy and sometimes dry, Yet we describe them as the best days of our life,
And they are termed as "The School Days" of my life"
These days gave me friends to rely upon, principles to follow in the life ahead, people whom I can respect in the true sense and also love "A true love" to remember and to miss. Life was as good to me as it was to other with a very average childhood my life began but was it my fate or my dad's hard work that my life blossomed with age. As time progressed,  progressed my age and life too.
I was enrolled in 1 of the best schools of times. And as I crossed my secondary section I was made to change to another school especially for pursuing the science field there (I regret the field still). Oh! I still didn't mention you about myself it's me Abhi, Abhisekh Joshi. A 5"5' tall(tall-just to make myself feel happy), fair looks (a bit fair) average physique, though I think every day to join the gym all efforts go in vain. And yes that's all. Apart from this, the only thing that can draw your attention towards me is my talkativeness as well as my sense of humour (which I consider good)
…
Jan 2012 After getting bored totally by sitting, shemal came to my place."hey Abhi, I finally had a break up" Shemal saidWhat? Why? I asked shockinglyYeah. Don't overreact. She was not girlfriend material, and after 2 months I realized that. So finally we are separated."I actually thought you loved her"- I said yeah, I did. But now I don't love her, and I am so frustrated with all the relationship issue, that I really don't want to mess up myself again entering into it for some time. Stating this shemal left from my place but not from my mind.

"What was that he actually told me? How come the definition to love has changed so much? Why all relationships are stated to be in love when actually there is not even a bit of love included in it?
Love is only considered when you both are into a relationship?Why?"

As soon as I typed these statements on my blog, I was lost in my past, not the 1st time, I many time miss my past, but this time It was somewhat serious, I was crying suddenly.I stood up and opened my drawer to grab the photo album of school days; I opened it and was turning the pictures from one to the other, and suddenly stopped onto one of the images. The image of me and Anamika standing side by side and smiling; for the next ten minutes I was staring that image and suddenly I witnessed my eyes were wet. Yes, tears began to drop from my eyes.
….
I kept the album back in my drawer and went to my bed. Tried sleeping for more than an hour, I failed. It's not that I feel like this every day, but neither do I hear about love and breakups every day too. I don't miss her any more, or at least I try to do that. But whenever I hear about love being misunderstood or misinterpreted; I miss her.
More than her I miss the love without any relation which we shared. Or what love actually should be. I was slowly going into my life 5 years ago, my life of joy, my life of true happiness, my life of love, my life with Anamika and also my life of separation, my life of ignorance, and into the life without my life.                                                       
                                ……………………………………………To BE Continued Tomorrow
*********************************
Connect to us @