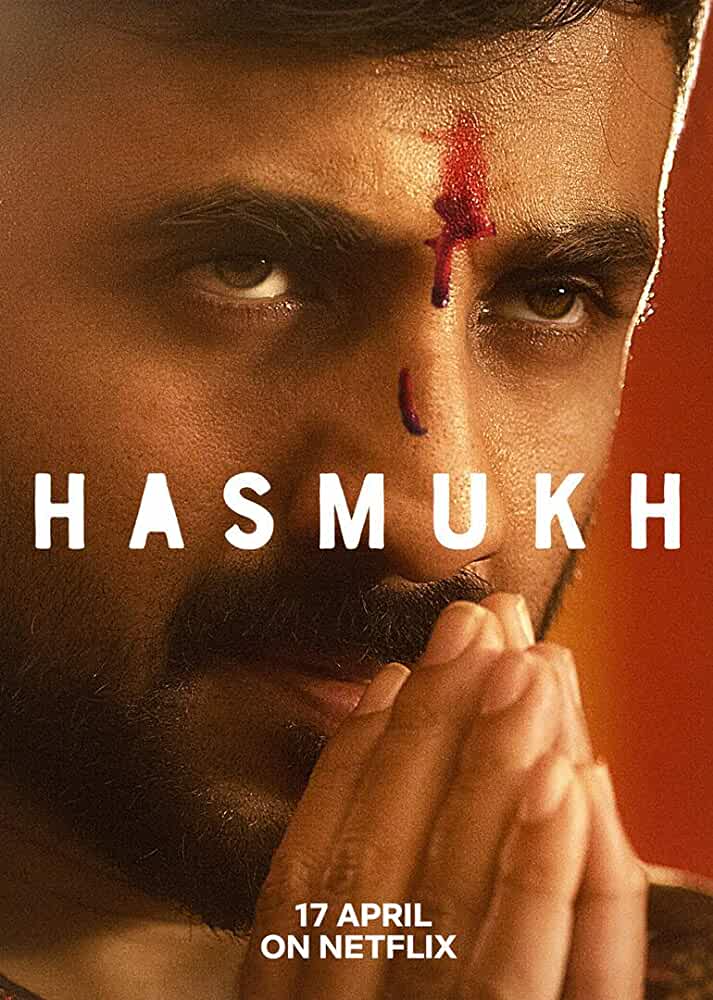 Hasmukh Review : Netflix: Web series
Netflix Original – Hasmukh
Genre: Crime, Dark Comedy
Lead: Vir Das
Supporting: Ranveer Shorey, Manoj Pahwa, Ravi Kishan, Inaamulhaq
Director:
Release Date: 17th April 2020
Rating: **** (4 star)
Netflix :Hasmukh : Review : Web series
Synopsis:
Netflix comes with a crime comedy web series Hasmukh. From the small town of Uttar Pradesh comes a story of a guy with mediocre living and one interest of wanting to be a comedian. Vir Das portrays the role of this guy with hope; Hasmukh. To support him in achieving his dream comes his partner in crime, Jimmy, played by Ranveer Shorey.
In a journey that begins with the hope of becoming a comedian comes to a point where to get a first glimpse of the stage, Hasmukh had to murder. Now Hasmukh is performing in the same very show and from this there is no turning back. There is fame, money and a hidden guilt altogether. From one show to another the guilt adds on, not because of the first murder, but because of the feel that the murder gives to his performance.
The catch here is, Hasmukh realizes that the only he can perform well in front of a live crowd is when he gets the feel, and that comes only when he kills someone; especially a wrongdoer. Here his manager, Jimmy played by Ranveer Shorey who claims to make him a superstar takes the responsibility of handling him and finding out the Culprits whom Hasmukh can kill, before every show.
His fame takes him to Mumbai. What follows hence, is a journey of Fame and Crime moving altogether. From Uttar Pradesh to Mumbai, wherein a channel owned by a flamboyant Ravi Kishan pays a whopping amount to perform in a contest. And so a journey starts from killing the show literally and figuratively.
Story:
A crime, dark comedy comes with a strange storyline. The last time I saw something was in Kick movie, where Salman Khan needed a motivation to work. Strangely here the character needs to murder. This becomes the unique point of the show. How he finds each character to kill before each episode keeps the show gripping. The story falls flat on some parts, wherein the angle of love comes into the screenplay but you do not find it relevant in any possible means.
Characters
Vir Das justifies the role. If you think anyone else could have done it ? Definitely yes. But Vir Das does no wrong to the story. A perfect character to the story. His numb expressions and scenes where his eyes speak more than his words do justice to his role. To add to this role, is his manager played by Ranveer Shorey. Jimmy the character played by Shorey keeps the story engaging with a scent of laughter. Ranveer Shorey portrays a perfect support which on many occasions easts the entire scene altogether. Not a single scene with both of them in frame goes unnoticed. If and when things turn to fall short, he picks up the scene and closes it smoothly.
To keep the story moving, the UP Police Daroga played by Inaamulhaq , The Channel owner Ravi Kishan, The comedy show manager played by Amrita Bagchi, all have played a reputed role justifying the story as and when required. Manoj Pahwa playing the soul which follows Hasmukh all through the movie, keeping the guilt alive in the whole story.
Overall Review
10 episode series of 30 minutes each is a perfect relaxation of this lockdown. You might not be gripped to it for a binge-watch, but even in parts, it will hardly take you a day.
In any case, you will be loving it anyhow.
Do watch it soon!!
Netflix :Hasmukh : Review
For more such reviews, blog, article, poems, follow Ramta Jogi